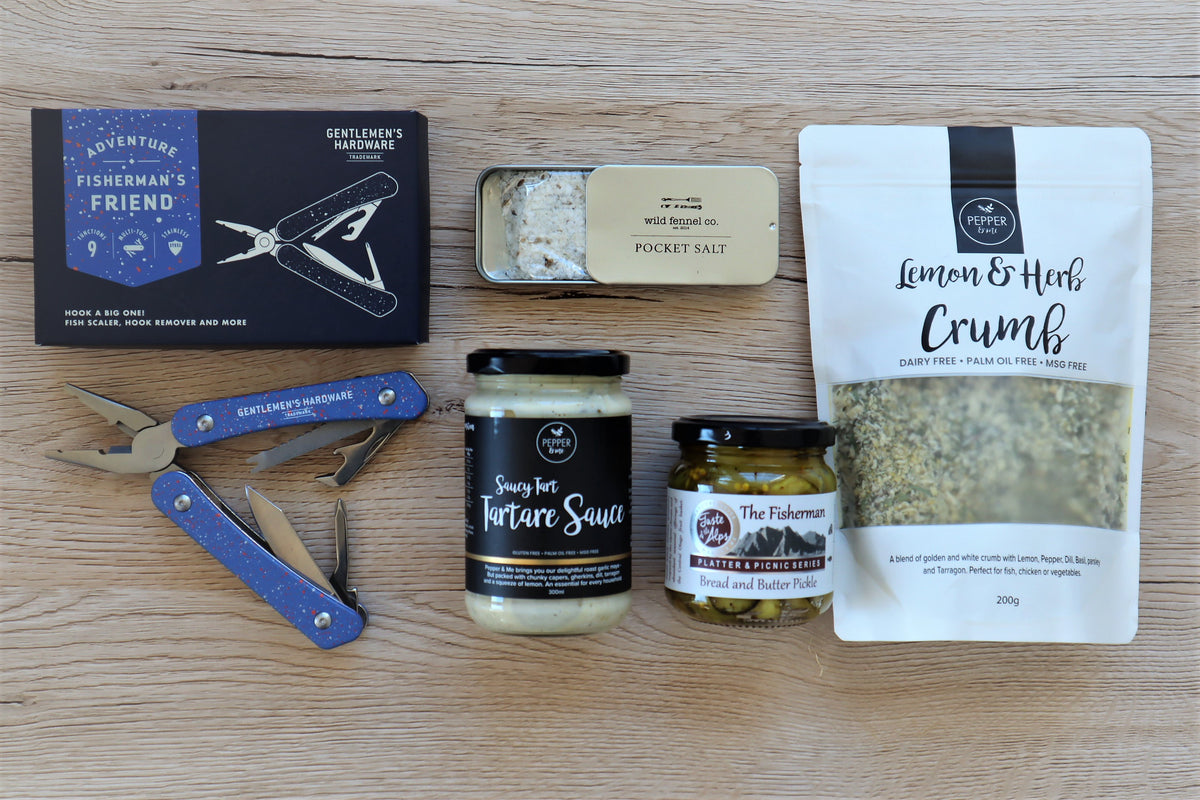 The Fisherman
Regular price
$110.00
Or 6 payments from $18.33
What's this?
---
For the love of fish... or the love of trying to catch one! Thoughtfully curated for the fisherman in your life, this gift box has a fishermans multi-tool  for all fishy needs, and the perfect condiments for that catch of the day with Pepper & Me Lemon and Herb Crumb and Saucy Tart Tartare Sauce, Taste of the Alps Fisherman bread and butter pickle and and ideal wee portable tin of salt. The perfect gift for him, for Father's day or a thank you!
Gentlemens Hardware Fishermans Multi-tool- Hook a Big One! Fish scaler, Hook remover, shot splitter, line cutter, needlenose plier, knife, phillips screwdriver and bottle/can opener -  all this in one little carry tool, perfect for the fisherman and the non-fisherman - this is one handy tool for all users. We all need one!
Pepper & Me Lemon and Herb Crumb -  Dairy free, palm oil free , MSG free.  A blend of  golden and white crumb with lemon, pepper, dill, basil, parsley and tarragon. I'll be your secret weapon for crumbing fish, chicken or vegetables.
Pepper & Me A Saucy Tart Tartare Sauce - Smother your fish burger buns with this delightful thick and chunky Tartare sauce, beautiful with any fish or seafood.
Taste Of the Alps Fisherman Bread and Butter Pickle - made in Wanaka this stunning pickle is produced from local ingredients and is gluten-free and free of preserves and additives.
Wild Fennel Pocket Salt - a lightly flavoured sea salt perfect for fishing, camping, hunting seasoning.
Easy delivery NZ wide of our online gifts for him. Alternatively, create your own unique gift for him with our build your box service.